As the global pandemic continues its spread, affecting every country on every continent, we're now fighting a different kind of spread as wildfires are scorching large areas across the Western United States. What's worse? A new study out of Harvard University shows that these two just might be connected. The combination of severe drought and heat waves in the West has only exacerbated the threat of wildfires. Since the start of the pandemic, wildfires have burned through nearly 9 million acres of land and counting. 
In this article, we explain the connection between wildfires and COVID-19. We'll explore what PM2.5 is, what makes it so dangerous, and how we can help keep your air and the people who breathe it healthy. 
To speak with one of our indoor air quality experts, contact us here.
What is PM2.5 pollution?
PM2.5 is particulate matter, a mixture of solid and liquid particles in the air, that is 2.5 micrometers in diameter or smaller. To get an idea of just how small that is, envision one hair from your head. That hair is somewhere around 70 micrometers in diameter — or 30 times larger than PM2.5. Because PM2.5 is so small, it can easily be inhaled and make its way deep into the lungs. Wildfire smoke contains PM2.5, which can worsen conditions like heart disease or asthma and can also make an otherwise healthy person more susceptible to viruses. The PM2.5 triggers an immune response in the body, and while the immune system is busy fighting off residual smoke particles, it isn't able to fight off other viruses — including COVID-19. Heavier particle concentrations in the air also make it easier for microbes to get into your lungs, according to Irva Hertz-Picciotto, an environmental epidemiologist at the University of California at Davis.

The link between wildfire smoke and COVID-19
The healthy standard of daily PM2.5 exposure, set by the Environmental Protection Agency (EPA), is 12 micrograms per cubic meter (µg/m3), but in areas with severe fires, PM2.5 concentrations can be over 300 µg/m3. Anything from 300 to 500+ µg/m3 is considered "hazardous" by the EPA.
The map below from The New York Times shows how the near-surface smoke from active fires spread across the United States over the course of four days, reaching all the way to the East Coast. According to new research out of The University of Alabama, over half of the U.S. states have or are experiencing wildfire-induced air pollution.
Researchers from the Harvard T.H. Chan School of Public Health and John A. Paulson School of Engineering and Applied Sciences teamed up with the Environmental Systems Research Institute in Redlands, California to complete a study on the link between wildfire smoke and COVID-19. This was the first study to examine how much increased PM2.5 pollution from wildfires contributed to the number of COVID-19 cases and deaths, specifically in Washington, Oregon, and California.
Across all counties observed, the study found that a daily increase of 10 µg/m3 in PM2.5 for 28 subsequent days was tied to an 11.7% increase in COVID-19 cases and an 8.4% increase in COVID-19 deaths. Those increases equated to 19,700 cases and 750 deaths.
There may also be other factors that play into the connection between wildfires and increased COVID-19 cases. Scientists that study air quality have not ruled out the possibility that smoke particles can actually carry the virus, but further research is required to confirm whether or not this is the case. Additionally, people have been gathering indoors to avoid wildfire smoke. In these environments, the possibility of interacting with an infected person is high.
Can masks block PM2.5?
The answer to this question depends on the type of mask. For the most part, cloth masks are not able to catch harmful PM2.5 particles. However, N95 and KN95 respirators can catch these particles. This is especially important for populations that are more vulnerable to wildfire smoke exposure, as identified by the CDC: 
Children under 18;

Adults over 65;

Pregnant people;

People with chronic health conditions (ex. heart or lung disease, asthma or diabetes);

Outdoor workers;

People of low socioeconomic status, especially those with limited access to medical care.
People in these categories may want to take extra care in mask selection and use.
How to set up a "clean room" in 4 steps
The EPA defines a 'clean room' as "a room that is set up to keep levels of smoke and other particles as low as possible during wildfire smoke events." In areas where the Air Quality Index reports unsafe smoke levels, creating and spending time in such a room can help to reduce your exposure to this unsafe air. Here are the 4 steps, as laid out by the EPA, that you can take to create a clean room.
Choose a room.

Make sure it is a room that is both comfortable and large enough for people to spend time in.

Prevent smoke from entering the room.

Ensure that all windows and doors are sealed without making it difficult to exit. 

Stay cool.

Run the air conditioning or fans. If your HVAC system pulls in outside air, use a different cooling method or set it to recirculate indoor air.

Filter the air in the room. Run a portable air purification device (such as VIRUSKILLER™).
How VIRUSKILLER™ can protect against wildfire smoke and COVID-19  
Whether you're looking to clean the air in your home or need to find a solution that filters indoor air in a larger space, Ambius can help. Not only do our VIRUSKILLER™ units deactivate 99.9999% of airborne viruses in a single air pass*, the triple-layer filtration plus UV-C Reactor Chamber filters out dangerous particles such as PM2.5. With three units to meet your unique needs, our premium clean air technology has been tested and proven to filter, neutralize, and decontaminate indoor air.
Start breathing easier today. Get a free demo or purchase yours today!
*VIRUSKILLER™ is independently tested against Coronavirus DF2 (a surrogate for Coronavirus), Adenovirus, Influenza and Polio virus.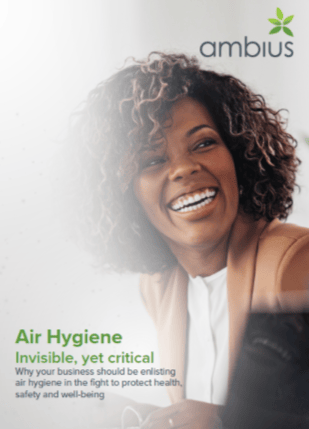 Want to learn more? In our Air Hygiene Report, you'll find: 
Air pollution and its impact on respiratory health

Ways airborne pathogens spread indoors

Opportunities to enlist buildings in the fight against airborne diseases

How to manage air hygiene in the built environment

The importance of air filtration systems and what to look for
Fill out the form below to download your free copy!